About Me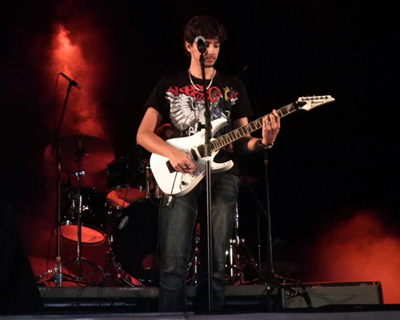 My name is Davi Mafra. I'm from Brazil. I've been a guitarist for about 11 years.
Along these years, I did many musical courses and played in gigs, local shows, Music Festivals, bands and churches.
My favorite styles are: Rock, Metal, Djent and Fusion. However, I can play any other style like: MPB, Bossa, Blues, Pop, Gospel, Jazz, etc. A good musician is always versatile.
Guitarists that inspires me: Andy James, Tosin Abasi, Satriani, Petrucci, Steve Vai, Guthrie Govan, Andy Timmons, etc.
In addition, I work as composer arranger and a music teacher.
Currently I'm an active student of The Great Gutarist/Teacher Tom Hess
I'm also a keyboard player for almost 6 years.
My brother Daniel Mafra (drummer) and I own a local band called Remanescent. I'm currently the co-vocal/guitarrist/composer.